HI GUYS!

I don't normally for stuff like this, BUT I need your help to get a t-shirt design to win a facebook competition for diabetes reserach.

Please go to this page www.facebook.com/photo.php?fbi… to vote and all you have to do is 'like' the picture of the t-shirt design, its a flying horse! Please don't vote for anyone else, we want diabetes research to win! YAY

Thanks guys

Like Marine Mammals?

Join
#
Exp-Marine-Mammals
!


What a wild three weeks I've just had...

Some of you may have noticed that I've been pretty unresponsive here on DA since March, when I went off for my conference in Ireland. And its true! I've been completely neglecting DA in the wake of all the real life craziness thats been going on. I've got a crazy (for me) number of messages sitting in my inbox here (+1000! thats unheard of for me!) so while I am going to try to repsond to all my comments/replies I'm sorry but I can't go through and individually thank all my new watchers like I usually do. I'm sorry guys but I don't have time! Hi to all you guys that have just started watching, hope you like what you see

So here's what I've been up to in the three weeks that I've been gone!
First week: European Cetacean Society Conference in Ireland
This was an absolute blast, first up I went on a training course to refresh my marine mammal rescue skills. This was so much crazy fun, as we use life sized inflatable dolphins/whales to train and they are partially filled with water so that they represent the actual weight of the species they represent! The pilot whale was SO HEAVY! Then it was onto the conference itself, so many great talks about studying, conserving and monitoring european cetaceans. Then I had to give my talk! About seals lol but everyone really loved it, it was one of five talks one seals at the whole conference and I got a great reaction from everybody about it. I was so nervous though, talking to 500 people is SCARY! After that I could let my hair down and enjoy myself, and the whole conference turned into a wonderful blur of science, meeting awesome new people, drinking in the pub(s) and then staying out until 4am drinking some more. Hehe thats scientists in action right there

Oh noes! stranded cetaceans! They look very real when they are in the water, we had a crowd of concerned citizens watching us all day!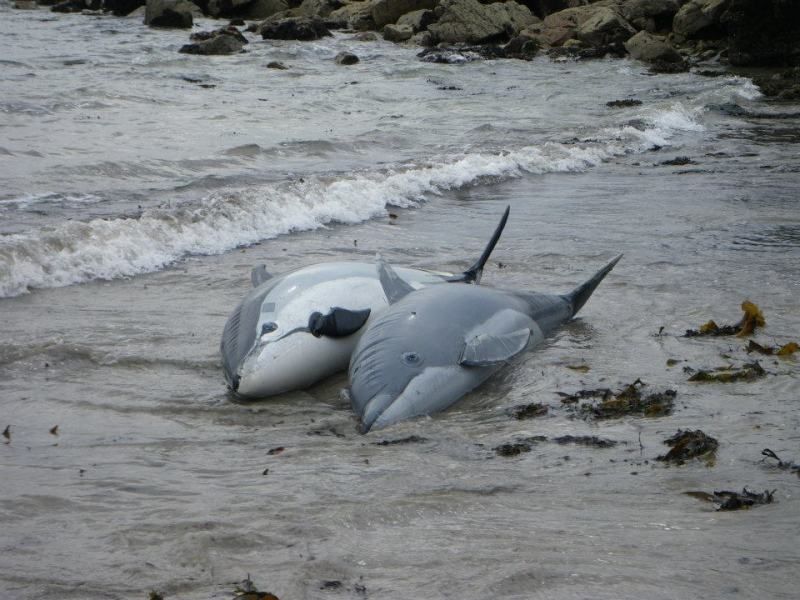 Me, some other trainees and the bottlenose dolphin dummy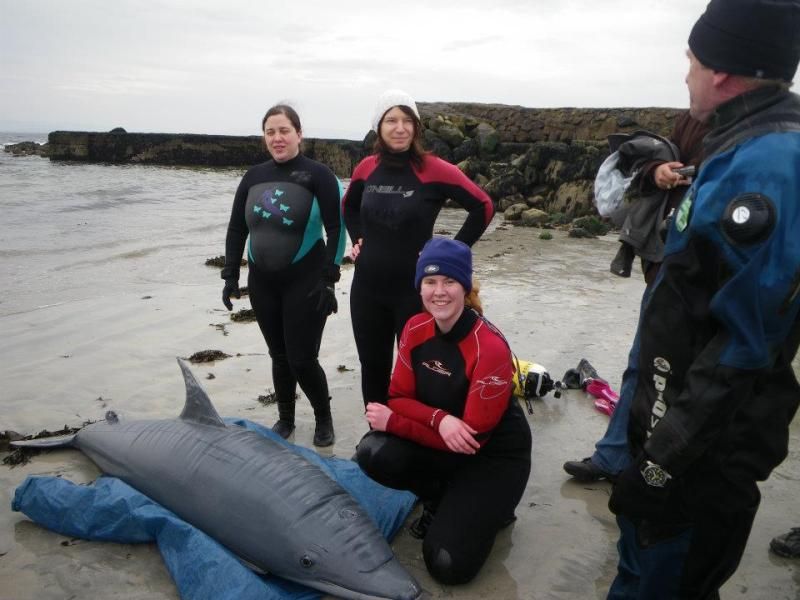 Trying to save the pilot whale in the surf!
TALK TIME! =O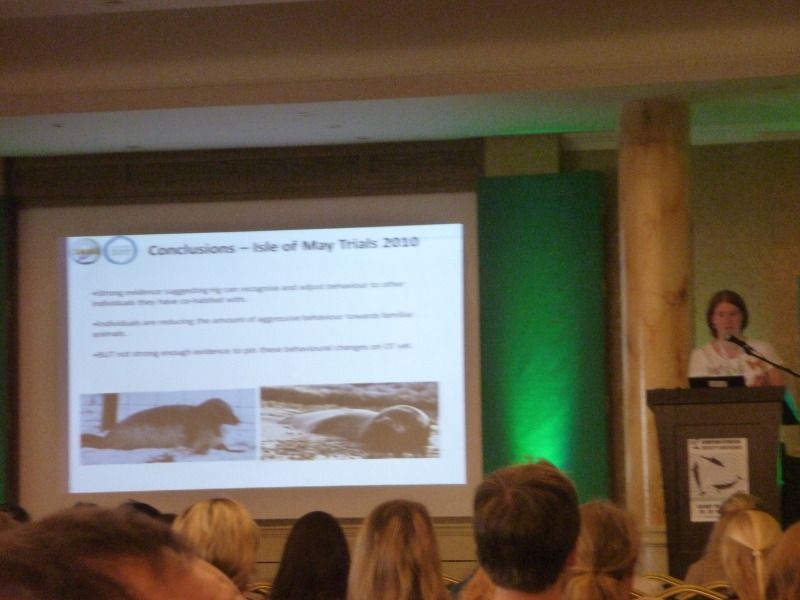 Then Irish culture appreciation time...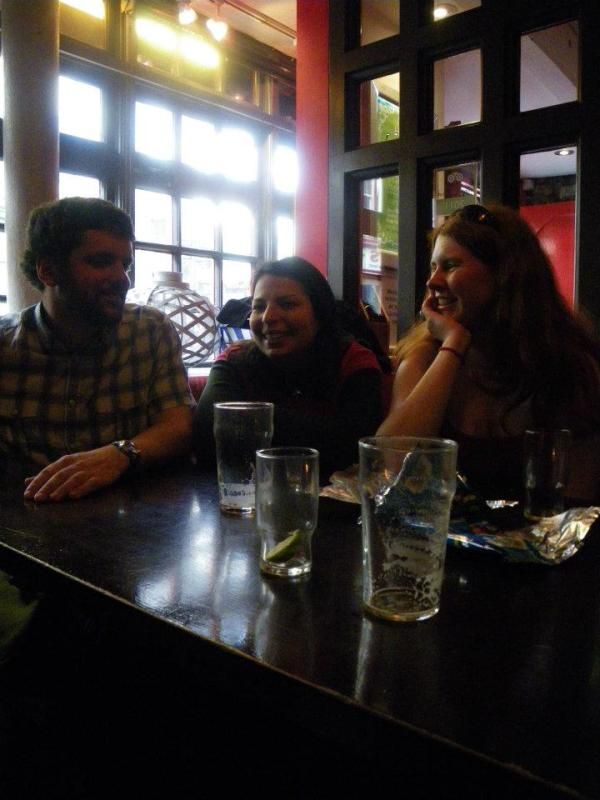 And after that God only knows what! There's no way I'm posting any of the photos from the night time parties on here!

Second week: Back to the lab but at least the boyfriend's here
Not much exciting stuff happened this week but it was crazy busy. I spent it trying to get my lab work to work (it didn't) and spending some well earned time with my BF who I'd not seen in a month! He had the easter hols off though as he's a science teacher so he came up to live with me for a week. Was such a star, he looked after me during my mad lab rampages and cooked all the dinners, he even made chocolate marshmallow fudge to make me happy when my lab stuff failed epicly!
Third week: Down to England
The third week me and the BF went south to england to stay with my parents for the week. My dad had a scary operation on his spine, so the whole family (my brother/sister and their partners) came to visit too, but dad is fine and recovering well so thats a huge relief! He has tons of creepy staples in his back now holding everything closed but they'll come out in a week or so. Had a great time hanging with everyone, especially because my little sis is getting married in the summer and as one of the bridesmaids I get to help sort everything out. Also found time to go to colchester zoo for mine and the BF's 5 year anniversary, go us!
Colchester Zoo shots

In other news...

The avengers movie comes out in 8 days

HUGE EXPRESSION OF MY UNCONTAINABLE EXCITMENT!


Features

Artwork
Gryphons
Birds
Exotics
Terrestrial Mammals













Can I use your images as stock or for photo-manipulation, web design, web blog, or other personal/school/work projects?

No, this gallery contains no stock images. All my photographs are copyrighted and may not be altered, printed or published in any media and/or format.
I'm a painter/sketch artist, may I use your photo(s) as reference?

Feel free to use my non-stock photos as reference to your traditional and/or digital Drawings/Paintings/Artisan Crafts and Sculptures. Please send me a link to your finished work and credit me in the comment and link to the original deviation photo. I love seeing people's interpretations of my photos and have a fav gallery just for them!
Please respect the rules! Thanks!